Regular price
$4,800.00 USD
Regular price
Sale price
$4,800.00 USD
Unit price
per
Sale
Sold out
The Hot Box Camper. This diesel heater is the culmination of a desire for comfort, convenience, and quality while camping. It is the highest quality camping diesel heater available on the market. This variant is especially for people with campers like Alu-Cabins, Go Fast Campers, Four Wheel Campers, AT Overland systems, enclosed camping trailers and more.

The Hot Box is designed to keep you warm when the weather is weary. Don't shiver through another cold night of camping—camp in comfort with the same amenities you have at home.
Shipping

Calculated based on location
Dimensions

Mountable Option (fuel tank mounted separate):

Heater External Dimensions (L*W*H"):22.95 x 15.28 x 6.96

Case Bolt Pattern: 19.25 x 13.375"

Fuel Tank: Standard Rotopax 2gal

Hanging Option (Integrated fuel tank):

External Dimensions

(L*W*H"): 22.95 x 15.28 x 9.8

Hybrid Hanging/Mountable (Adapter plate for fuel line storage)

External Dimensions

(L*W*H"): 22.95 x 15.28 x 11.5
Share
View full details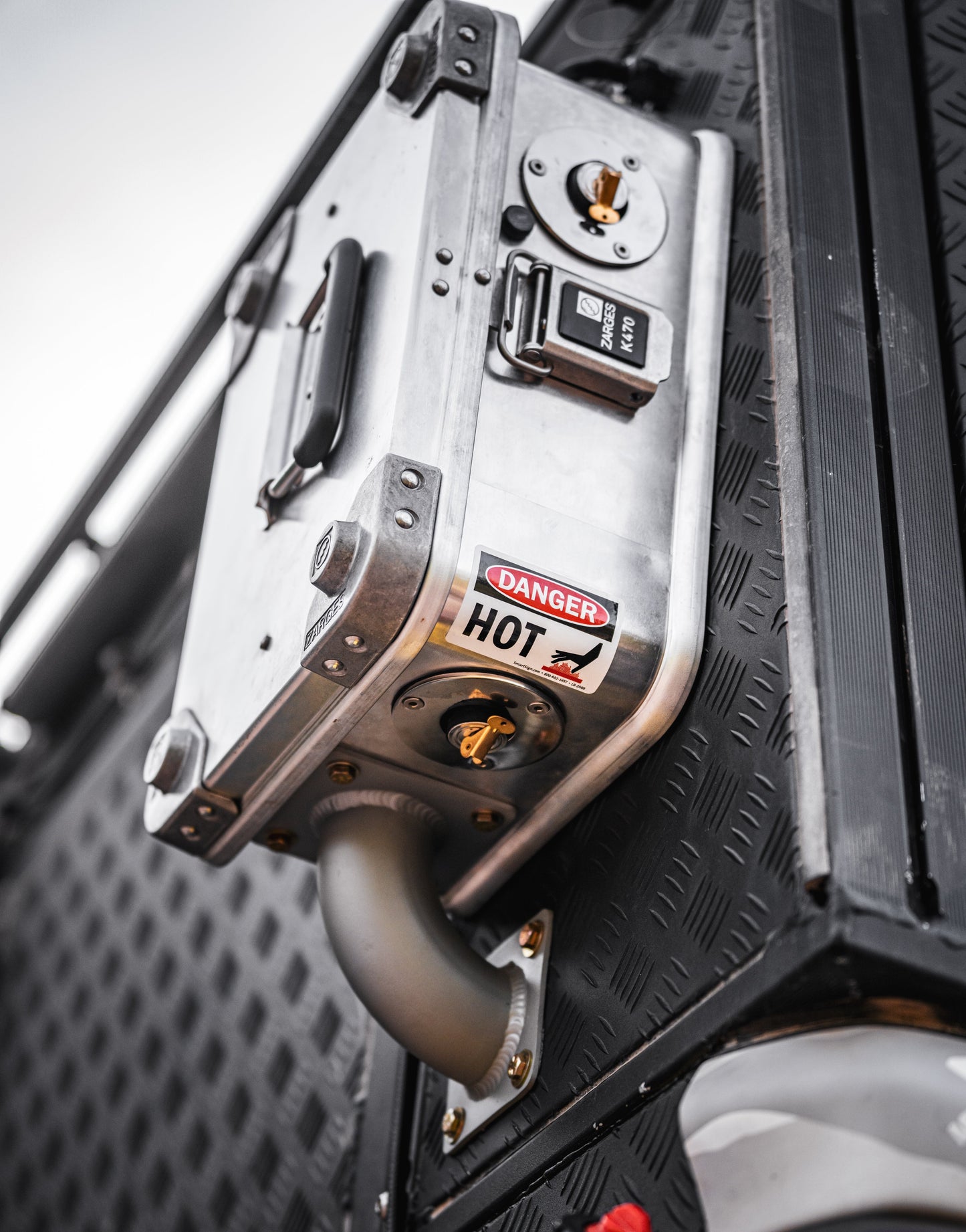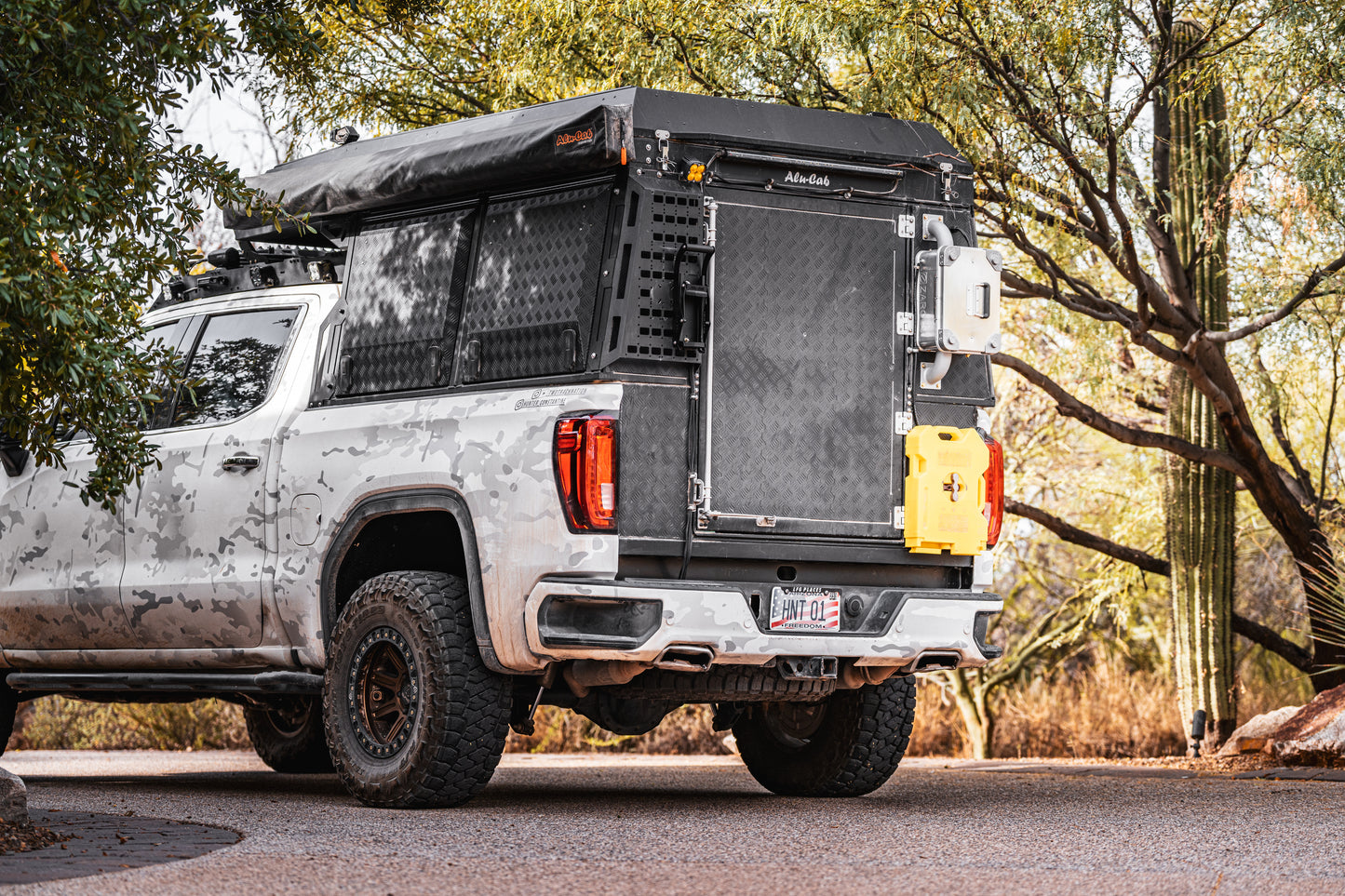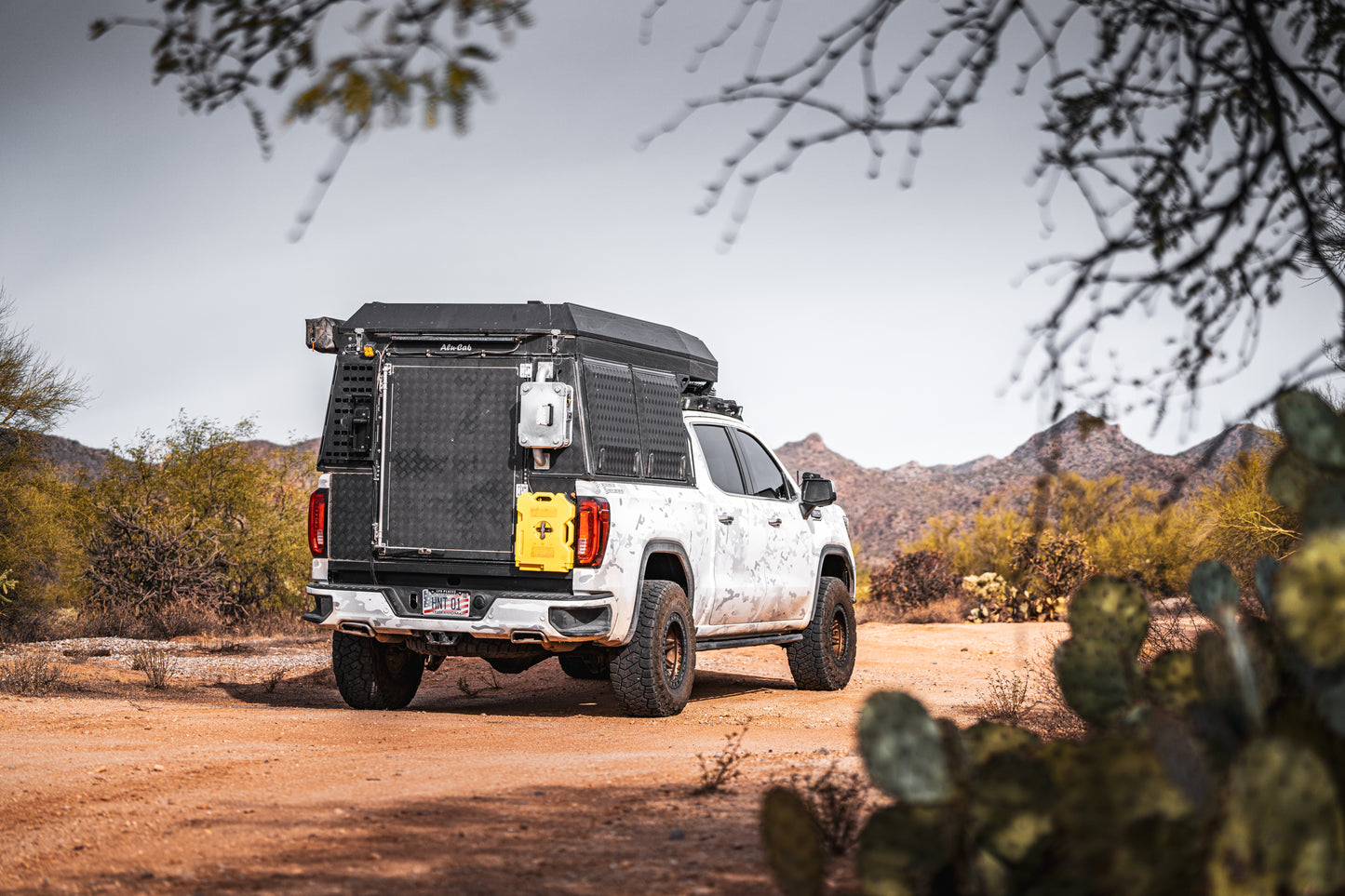 Design
What makes this product unique is the components used, and the well-thought-out implementation of the design. Over 2 years of trial and error testing was spent during overland and offroading adventures to arrive at the perfect design. Problems were found, which led to solutions. As with any quality product, having a solid foundation is paramount. The case is an attractive and durable aluminum sealed Zarges K470 case that has been modified to house the most reliable heating unit on the market - an appropriately sized Eberspacher/Espar DL 2.2kw unit. This unit will comfortably heat a roof top tent, truck bed camper, or interior of a vehicle with incredibly low fuel and power consumption.
There are a number of fundamental differences between these heating units, and the infamous "Chinese diesel heaters" available everywhere. Lets talk about these differences.
Build quality is of paramount importance. These units are water sealed and have been tested through winter, rain downpours, and even car-wash pressure washers. Inside the case, you'll find the D2L Espar heating unit. These units come with a completely sealed ECU vs competitor open circuit cards. This allows reliable operation in incliment weather as all heating units of this design blow the inlet air directly across these components. This unit also comes with a completely silent fuel pump, no more clicking! (It may click when priming, however when running it's completely silent). In terms of altitude performance, these come with pressure sensors to provide reliable operation up to 10k feet, though we have operated at higher.
Measured Power Consumption
As with any heating device like this, they require power. We have appropriately sized this heating unit for Roof top tents and truck campers, here are some of the power requirements you could expect to see based off run-time.
- Up to 120W on start(10A @12v)
   typically takes 10min = 1.7Ah
- Low , ~6W (0.5A @ 12V, 6Ah over 10hrs)
- High, ~32W (2.66A @ 12V, 26.6Ah over 10hrs)
- Low Voltage limit of 10.5V, unit will automatically shut off.
Fuel Consumption
- Low: ~0.026gal/hr, .26gal over 10hrs or 1 night
- High: ~0.074 gal/hr, .75gal over 10hrs or 1 night
- Through testing, with included 2gal tank, this will last 6+ nights in an Alu-Cab Roof Top Tent.
Configurations
One of the unique aspects of this product is the ability to customize the configuration depending on your use-case. Want it to be portable? No problem. Want it permanently mounted to a vehicle? We got you. Want it to be potentially used for both? CHECK. Don't want to mount it to a vehicle, but want to maybe hang it from the tent so it's not on the ground? Also check. We recommend keeping the heater as close to the tent as possible for most effective performance.
The HOT BOX is also able to be flat mounted. Please note that if flat mounting, the intake and exhaust ports cannot be obstructed and the exhaust port is not recommended to be pointing at any other gear mounted next to it.
These configurations are well thought out and intended to be used for your specific use case. The hybrid nature of the system allows you to use it for more than just vehicles and is a great solution for small hunting and ice fishing units.
Have a larger heating requirement? Talk to us, we can double the heating unit in the same size box if needed!
We also offer an adapter plate that can easily mount to any t-slot mounting location for a quick-release hanging option. When done, pack up the hose, unhang it, and stow it in the back of your truck or trailer.
We can also change the heat outlet location to suit your needs, coming out either side of the box on the side or the top. You may prefer one side or the other depending on how you mount it to the vehicle and where the exhaust will come out. Please note that the exhaust will come out the same side as the heat outlet.
The Hot Box is designed to keep you warm when the weather is weary. Don't shiver through another cold night of camping—camp in comfort with the same amenities you have at home. 
Any special requests? Let us know, we have some flexibility depending on use-case.